04 Nov

Lunch Bunch Bouncing Back After Ian

For the first time in over a month the Lunch Bunch met in the official meeting place! Cmdr Wayne's Annex! Front and rear walls missing, open air, nice breeze as it is still warm here in FLA,, high today in upper 80's, 88 or 89!!! Good bunch of pilots showed up, about 16 "Lucky Dogs" with 12 flying to LaBelle for lunch, 2 in ErCoupe to Sebring to observe the Aerobatic Competition, and some that just didn't fly today! Beautiful weather, scattered clouds enroute at 3,500 ft, plenty of room to descend, all found a "Good Hole" for descent, at least that is what I heard on 122.75!!

KVNC Runway 5/23 closed for asphalt rejuvenation, So we all worked on our crosswind techniques. LaBelle had a crosswind , as well!! Lot of fun!! No problem for the taildraggers, work those "Foot Thingees"!!  Cub and RV!! Piece of cake for the "Nose Draggers"!! KVNC AWOS Inop due to Hurricane damage, parts on order, strange to tune in the frequency and "Blank", thought my radio was Inop!! Don't forget to set your altimeter,,, say what????

Skylane Blakes, Nancy and Bill, missed the meeting, but taxiied out with the group. Seems they were flying to Tampa Exec to "Lunch" with AOPA Big Wigs!! AOPA having their fly-in this weekend at Tampa Exec. Anybody going?

At present 99% of hangars are open for use. Some with no hangars doors, sorta like a shade hangar. Plane is out of the rain & sun, but open to wind, etc. Some discussion on securing plane parked on concrete floor. For now, chock it really good!!! The airport is operational, one runway, missing doors, no AWOS, but all are glad it is open. Those with damaged planes are busy getting estimates, adjustments, and preparing to get back into the air.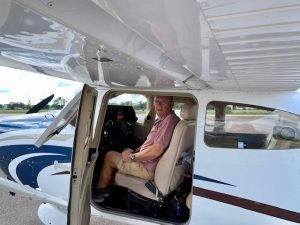 Question of the day – If a hangar door falls on your prop, some scratching, minor dings, then busts or dents the spinner, is an engine teardown mandatory??? This question is going around as several planes are in this predicament! ?????????  Sudden stopage ???? Something to think about!
RV Dave with Archer Mike flew home via Ft. Myers Beach, Sanibel, Captiva, Cayo Costa, Boca Grande, Rotonda West and Englewood. The devastation was terrible, some beach front lots empty, just sand, and a slab, standing out like a missing tooth on a hockey player! Several lots a swimming pool is all that is left! Blue FEMA roofs everywhere! One marina with boats piled high in a corner, big shrimp boats on top! A striking scene as the islands were brown in color, all the green leaves striped off by the wind! Hope the mangroves and trees come back. Then to add insult, we saw streaks and areas of Red Tide just offshore! Compared to these areas Venice came through pretty good, damaged but not destroyed! We'll get over it, will take time!!
FYI – VASI planning on a "Cookout" for all airport personnel to thank them for their efforts in the recovery from Hurricane Ian. Working on a date satisfactory to all parties, stay tuned.
Welcome to VASI newest member Peter Gayle, white shirt, Red Cardinal!!